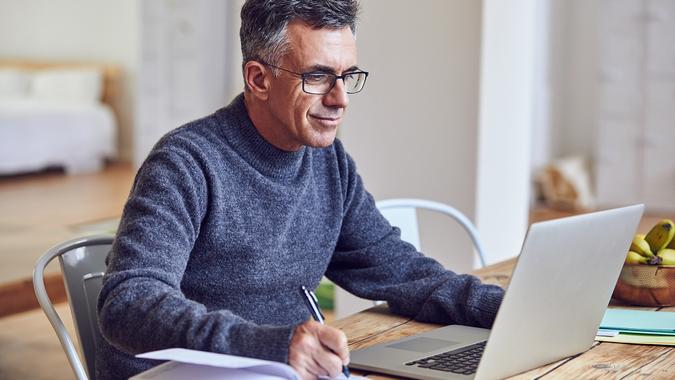 kupicoo / iStock.com
Mutual funds are a popular way to invest because they let you pool your money with money from other investors to buy into a portfolio of stocks, bonds or other assets. The diverse nature of the portfolio makes a mutual fund less risky than buying an individual stock or bond, but if you're not careful, sales and administrative fees can take a serious bite out of any gains your investment earns. Administrative fees, expressed as an expense ratio, are unavoidable. However, sales fees, also referred to as sales loads, are not. Although it's possible that a fund that charges loads will make up for it with stellar performance, sticking with no-load mutual funds usually leaves you with more money in your investment account, where it belongs.
GOBankingRates has put together a list some of the best no-load mutual funds to invest in right now.
American Funds American Mutual Fund Class F-1 (AMFFX)
AMFFX is a large value fund that invests mostly in dividend stocks of U.S. and Canadian companies expected to contribute to the growth of the economy. The fund's top holdings include Microsoft, AbbVie Inc., Raytheon Technologies Corp., UnitedHealth Group, Comcast and other companies that fund managers believe are undervalued, but the portfolio might also contain bonds and other debt securities.
Value stocks can remain undervalued over the long term, but this fund has performed well, delivering returns in the top 22.5% compared to other large value funds, according to Fidelity. AMFFX is down 6.82% year to date as of July 26. However, its annualized returns over 10 years are an impressive 10.84%.
Fidelity Fund (FFIDX)
FFIDX is a large growth fund that aims to achieve long-term capital growth. It primarily invests in growth and/or value stocks. Its top 10 holdings, which make up over 43% of the portfolio, include blue chip companies like Apple, Microsoft, Alphabet, UnitedHealth and Amazon. The fund's risk level is above average because it's fully invested in stocks, but it has outperformed large growth stocks overall over the last five years and significantly so over the last year. In addition, expenses are among the lowest in this roundup at 0.47%, and there's no minimum investment required.
T. Rowe Price US Equity Research Fund (PRCOX)
PRCOX is a large blend fund designed for long-term capital growth, but it's similar to an index fund in that it weights sectors and industries in much the same way the S&P 500 index does, and its performance is very similar. However, the PRCOX portfolio might include small- and mid-cap stocks. It's a highly diverse fund with 259 holdings, the top 10 of which make up less than one-third of the portfolio. Tech stocks like Alphabet, Apple and Microsoft make up the largest category, but healthcare, financial services and consumer cyclicals figure prominently as well. The fund's expense ratio is just 0.42%, which is low, the risk level is slightly above average and returns are above average — 13.04% over 10 years, annualized.
Fidelity Large Cap Growth Index Fund (FSPGX)
It's been a difficult year for FSPGX, as it has been for most mutual funds, but as the best-performing fund on this list, it's worth considering if you're looking for an investment with solid growth potential. As a large growth index fund, FSPGX aims to replicate the total return of large-cap U.S. stocks. At least 80% of its assets are typically invested in securites found in the Russell 1000 Growth Index, which tracks U.S. large-cap growth stocks. Over 45% of its portfolio is invested in its top 10 holdings, which include Apple, Microsoft, Amazon and Tesla. The fund also earns income by loaning securities. It has outperformed large growth stocks overall during the past year, losing 18.80% compared to 23.86%, as well as over three and five years.
T. Rowe Price Tax-Free Income Fund (PRTAX)
PRTAX is a fairly low-risk fund that invests mostly in long-term investment-grade municipal bonds to provide a high level of tax-exempt income. While municipal bonds can be a risky investment when interest rates are increasing and inflation is high, some analysts say they might be ready to turn around due to somewhat higher demand this summer, CNBC reported. When they do, you could do worse than to have money in PRTAX. It's a lower-risk fund by nature of its bond holdings, and returns are above average compared to other municipal bond funds.
Vanguard Equity-Income Fund Investor Shares (VEIPX)
VEIPX is a large value fund that serves as a good compromise between income and long-term capital appreciation. Unlike the American Funds value fund listed above, which invests in large-cap value stocks, this Vanguard fund also includes mid-cap stocks. Although mid-cap stocks can be more volatile than large-cap offerings, VEIPX balances the risk with defensive stocks like Johnson & Johnson and Procter & Gamble. As a result, the fund has seen quite modest losses year to date and for the past year and has produced higher-than-average returns, earning it a five-star rating from Morningstar.
Thrivent Small Cap Stock Fund Class S (TSCSX)
If you can tolerate a little more risk, consider a small-cap fund that has the potential to deliver outsize gains. TSCSX invests in companies with capitalizations equivalent to the companies included in the Russell 2000 and similar indexes with the goal of achieving long-term capital growth. It delivers high returns that fall in the top 10% compared to other small-blend funds and easily outperforms the Russell 2000 and S&P 600 indexes. Expenses are low at 0.80%. While the portfolio only has 90 holdings as of April 30, they're well distributed — the top 10 holdings make up less than 21% of the portfolio.
T. Rowe Price New Horizons Fund (PRNHX)
PRNHX is a mid-cap growth fund that exposes you to less risk than Thrivent's small-cap fund while still offering the potential for solid long-term capital growth. The volatility stems from holdings that consist mainly of small, emerging companies. They include Okta, which provides authentication services for apps and application programming interfaces from companies like Amazon Web Services, DocuSign and Zendesk, and HubSpot, a provider of popular customer resource management software.
Data is accurate as of July 26, 2022, and is subject to change.
from Top Stock To Invest – My Blog https://ift.tt/AqhTxMG
via
IFTTT