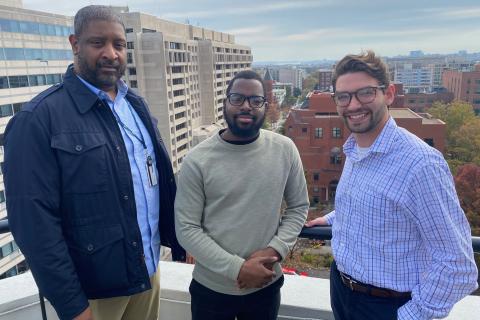 By Nick Erickson
Just a few months ago, Ryan Salandy and Mohammad Dembele had more questions than answers when it came to their careers.
Salandy was an established web designer and had been for years, but it seemed more and more obvious he'd need to learn how to code if he wanted to stay marketable and allow himself room to grow professionally.
Dembele was working toward a bachelor's degree in computer science when family circumstances caused by the pandemic forced him to take a semester off and ultimately put his education on hold.
While they were at vastly different points in their lives from one another, they shared a commonality of potential to be left behind. They both found their answers through tech apprenticeships that a George Washington University alumnus offered, and then later GW's Office of Innovation and Entrepreneurship (OIE) championed.
Over the summer, Salandy and Dembele connected with BuildWithin, a D.C. startup company Ximena Hartsock, Ph.D. '04, co-founded that provides people with non-traditional STEM educational backgrounds an opportunity to get placed in tech jobs while receiving training and mentorship to develop these skills. OIE then hired Salandy to be a web developer and Dembele to be an office operations associate. They both started at GW in mid-September and have been valuable team members at OIE while continuing to "learn while they earn."
"A big part of apprenticeships is making sure that everyone feels included and that everyone feels like they have a seat at the table," said Sean Connelly, administrative supervisor at OIE. "And we wanted to really open up opportunities for these partnerships but also for everyone to have this new foot in the door in higher education."
National Apprenticeship Week, a nationwide celebration highlighting how apprenticeships provide critical talent pipelines to help address pressing workforce challenges, began Monday and runs through Sunday, Nov. 20.
Hartsock, who previously founded a digital engagement and communications platform—Phone2Action—for grassroots advocacy, public affairs and government relations, has long been a strong alumni supporter of GW and OIE and was thrilled to partner with the office and Jim Chung, the university's associate vice president for research, innovation and entrepreneurship.
In her nearly two decades in the workforce (she was also a principal and administrator in the D.C. Public Schools system), Hartsock has seen technology push people out of work, whether it'd be a lack of access to it or an inability to keep up with its rapid development. For example, she said her father-in-law felt pushed out of his job of 30 years because of a demand for all employees to be adequate at new technology implemented.
She wants BuildWithin to be a pioneer in the field so the experience of that older worker is an exception and that capable, hard-working people such as Salandy and Dembele can develop the skills they need to make themselves versatile employees.
"Every job should provide opportunities to learn and change without having to start on the bottom," she said.
BuildWithin announced its official launch earlier in the month with $2.4 million in pre-seed funding led by Dundee Venture Capital with participation from Black Capital, an early-stage fund focused on investing in underrepresented founders. BuildWithin's new funding also includes roughly $8M in government grants.
In addition, this apprenticeship program encourages diversity, equity and inclusion so that the tech industry better reflects the entire population. She believes that's advantageous for companies, workers and consumers.
"Products are better if you have people using products that represent the user's needs," Hartsock said. "If you have a product made by people of all the same background, it's only going to serve people of that background."
Dembele is grateful to BuildWithin, GW and OIE for this mindset as the tech apprenticeship has opened a path to employment and skill development that may otherwise have been harder to find.
"Breaking into tech and breaking into higher education can be very hard for people who don't have a certain background or don't have a certain experience or a certain connection," Dembele said. "That's part of the value apprenticeships bring."
Both Dembele and Salandy, who started with OIE on Sept. 19, are earning a full salary with benefits, and their apprenticeship appointment runs a full year.
Salandy has appreciated the team atmosphere at OIE, which he said helps him keep up with the rapid pace of technology. In just two months on the job, he's already picking up that coding language and learning valuable skills.
"Keeping up with the speed is, to me, actually about the relationships that you have," he said. "It's not so much a book that I need to read or at this type of language I need to learn. It's usually the communication that you have within the team itself. I've gained a lot more knowledge than what I thought would have coming in."
OIE will continue championing tech apprenticeships and working with BuildWithin to help set a precedent both in its own office and for the entire university. Those interested can contact both BuildWithin and OIE for further details. So far, Connelly said, Dembele and Salandy have exceeded expectations and have set the bar very high for future partnerships that are beneficial to GW and D.C.
"GW has benefited in a lot of ways," Connelly said. "We are able to get the support and help that we need, and we are able to give back in some way to the local D.C. community."
Adsense Arbitrage website traffic Get Adsense Approval Google Adsense Earnings Traffic Arbitrage YouTube Monetization YouTube Monetization, Watchtime and Subscribers Ready Monetized Autoblog
from Web Development – My Blog https://ift.tt/oqchUVH
via
IFTTT